Approximately 80% of koala habitat has been decimated since European settlement. Of the remaining 20% most occurs on private land. 
The development of a Koala Habitat Preservation, Enhancement and Restoration Plan has allowed Landcare to target our efforts in a coordinated manner. 
SGLN is working with local Landcare members to protect important koala habitat and extend the revegetation efforts across the lansdcape allowing Koalas to move safely.
On ground works are a key component of overall project. Active management of our remnants and revegetation areas are key to the long term ecological resilience of the landscape and ultimately the protection of our native species. Community awareness and education, (which is also part of the project) further enhances the project by actively engaging the community in seed collection, propagation, tree planting, koala counts, weed control and assistance to research projects.
How will the funds be used?
Grants to Landcare members to undertake specific activities such as:
Revegetation work to repair and restore the treed landscape
Developing and planting wildlife corridors, linking areas of fragmented bushland
Fencing off and replanting riparian areas to rehabilitate waterways and improve water quality, both in the river or stream and the inlets they flow int
 
On ground works

Tubestock, fencing, chemicals for weed control

Mapping and monitoring

Photo point monitoring
Recording on ground work on digital maps for reporting and publicity purposes 
Join with Australian Plant Society in creating and protecting Koala habitat!
Koalas and other native species are saying thank you this month.  Thank you to the Australian Plant Society – South Gippsland (APS-SG) for their wonderful donation of $10,000 to the South Gippsland Landcare Fund for the creation of koala habitat.
South Gippsland Landcare Fund Chair, Nick Dudley said "We are incredibly grateful to all the members of APS – SG and their wonderful donation to the Fund. This will help fund projects in South Gippsland to protect and create habitat for koalas and other native species. "
The APS – SG have been raising funds via annual Flower Shows since 1988. What started as simply a display of Australian flowers grown in the area grew over the years to include plant sales, art exhibitions, flower arrangements, and even a snake handler and someone who flew raptors.  An Art Exhibition was also added, and our artists added a beautiful advertising flyer for each year. The flower shows raised funds by selling native plants as well as other donations.
APS, with the money raised, paid for and planted a lovely local native streetscape outside the Inverloch Primary School with the help and assistan01ce of the School Principal and the Committee. Other donations were made along the way.
Unbeknownst to the group 2019 would be the last flower show, with future years being cancelled due to restrictions.
Coral Hughes "We find that we are all that bit older and not as young as we used to be, so now seems to be a good time to give the money to Landcare that can make good use of it to better the environment as we have all worked towards over the years."
The Landcare Fund will use the donation to fund projects on local Landcare properties to create koala habitat, creating corridors for our precious koalas to move safely across the landscape. If you would like to help create even more koala habitat, please visit follow the link bellow to make a tax-deductible donation.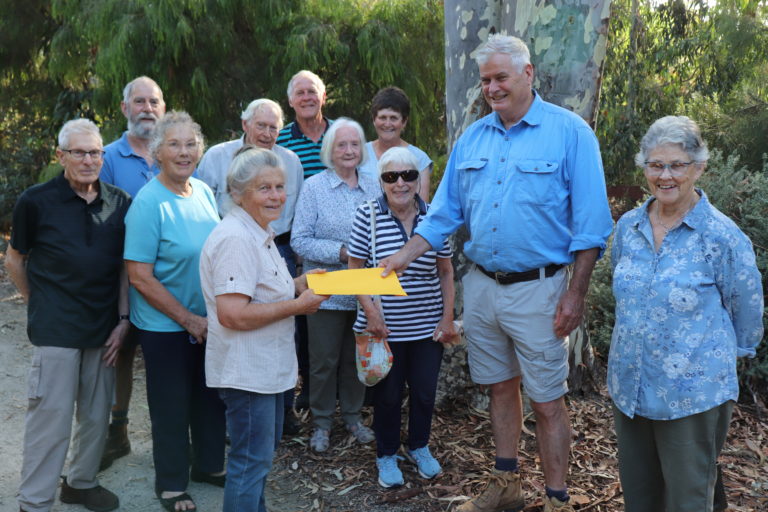 Members of the APS – South Gippsland handing over a cheque for $10,000 to South Gippsland Landcare Fund Chair, Nick Dudley for koala habitat.

(Back: Bruce Campbell, Barry Hill, Ian Hamilton Paul Sierakowski, Jenny Sierakowski. Front Ruth Campbell, Coral Hughes, Caroline Hamiton, Sybil Smith, Nick Dudley (Chair, SGLN Public Fund), Pat Dale)