Environmentally significant and economically important, Corner Inlet is valued as:
the most southerly population of White Mangrove in the world
a feeding, nesting and breeding area for thousands of waterbirds
one of the most important areas in Victoria for shorebirds such as the migratory Eastern Curlew and resident Pied and Sooty Oystercatchers
a unique system of barrier islands and tidal mudflats
the largest area of broad-leafed seagrass in Victoria
home to more than 390 native plant and 160 native animal species plus a diversity of marine invertebrates
an area of outstanding fish habitat including seagrass meadows and large stands of White Mangrove and saltmarsh
culturally significant to the Traditional Land Owners, the Gunaikurnai, Bunurong and Boon Wurrung people
the third largest commercial bay and inlet fishery in Victoria
having highly productive floodplain areas used for farming
an important destination for recreational activities including boating, fishing, camping, bird watching and bushwalking.
The estuaries and wetlands that fringe Corner Inlet are fed by fresh water from the Franklin and Agnes rivers and many small creeks.
THREATS
In recent years, local fishers, recreational users and local communities have expressed concern about the future of Corner Inlet. Extensive research has confirmed that these values are under threat from:
sediment and nutrients entering waterways from the surrounding catchment
weed infestations (including Spartina and blackberry)
pests like foxes and rabbits, and
erosion and land use change in culturally significant areas.
Land uses in the catchment contributing to sediment and nutrient loads entering waterways include farming, forestry and urban development. Because the waterways at the western end of Corner Inlet are smaller, steeper, have erodible soils and are in a high rainfall area they are more susceptible to the impacts of these land uses. Seagrass meadows and the unique sand flats are most at risk.
Weeds and pests such as Spartina (also known as rice grass), blackberry, foxes and rabbits compete with native plant and animal populations.When one species is impacted on, there are flow on effects to all the other species in the ecosystem.
Indigenous Australians have a strong cultural connection to country and so the preservation of cultural heritage is extremely important. All sites found on public or private land need to be protected. The same land uses impacting on catchment and inlet health also threaten cultural heritage.
PROJECT GOALS
The outcomes of the Corner Inlet Connections Project will be:
maintained health and extent of seagrass communities through improved water quality
protection of critical wetland habitats – saltmarsh, mangrove and intertidal mudflats
protection of waterbirds
increased community awareness and participation in the protection of Corner Inlet and
enhanced capacity of indigenous communities to protect natural resources.
2017 AGNES RIVER CANOE TOUR
From the Autumn/ Winter edition of South Gippy Landcare News page 4. Click on thumbnail to read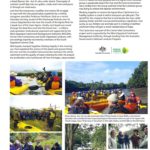 CATCHMENT MAPS
Click on map to open PDF in a new window
Stockyard and Bennison Creeks Franklin River Agnes River
WGCMA project page (WGCMA website)