Using renewable energy to power a new grazing enterprise was one of the main topics for discussion at a Healthy Soils Sustainable Farms field day at Cape Liptrap on Tuesday, 14 November.
Small-scale beef farmers, Jillian Staton and Bruce Whittaker described how they have transformed a 42Ha agistment block into an easy-to-manage and increasingly productive grazing property.
Initial improvements included subdividing larger paddocks and installing a laneway, and the construction of new, covered yards with a curved race. The real game-changer, however, was the installation of a solar-powered reticulation system that has enabled the couple to rotationally graze the entire property all year round.
The couple have noticed marked improvements in pasture composition and cover, consistent with the goals put forward in the nutrient management plan prepared by Lisa Warne as part of the Health Soils Sustainable Farms program.
Bruce described the process he went through in choosing the best system to feed water troughs around the farm, and some of the challenges encountered along the way.
Bruce and Jillian discussed the factors that led them to choose to go completely off-grid when building their home on the property. Electrician Wayne Smith talked about the off-grid system that he helped design and install, which includes 10kw of solar panels, a solar-powered hot water system, LPG for cooking, and provision in the future for a back-up generator and/or wind turbine.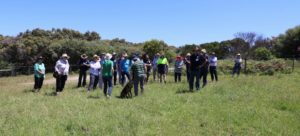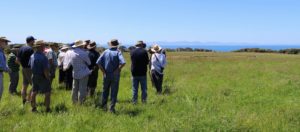 Field day notes are available here (nutrient management plan) and here (Tarara notes)