The case for protection
Significant loss of native flora, fauna and habitat has occurred since European settlement in South Gippsland. Increasing demands on natural resources, further human development and impacts of climate change all contribute to accelerating loss.
South Gippsland relies on its native flora and fauna for nature tourism, sustainable farming, cultural practices, community recreation and a sense of well-being. 
Our role
What we do affects the rich biodiversity and ecosystems around us.
We have a role in improving the living conditions for the plants, animals and fungi around us – and that also improves our own. The relationship between us, the biodiversity in Australia and our own backyards is beautifully illustrated in the video, below, along with an achievable range of actions we can take to do this.
Biodiversity protection plan
We aim to have a collaborative, coordinated and community-driven biodiversity protection plan to help the South Gippsland community better protect and build the resilience of the natural environment. 
Biodiversity in South Gippsland
Biodiversity is used, formally, to refer to all the different living things and habitats in an area, which includes humans. 
In our case, the focus is on the protection of native plants, animals and fungi on the land and in fresh water in the South Gippsland local government area, outlined in green below.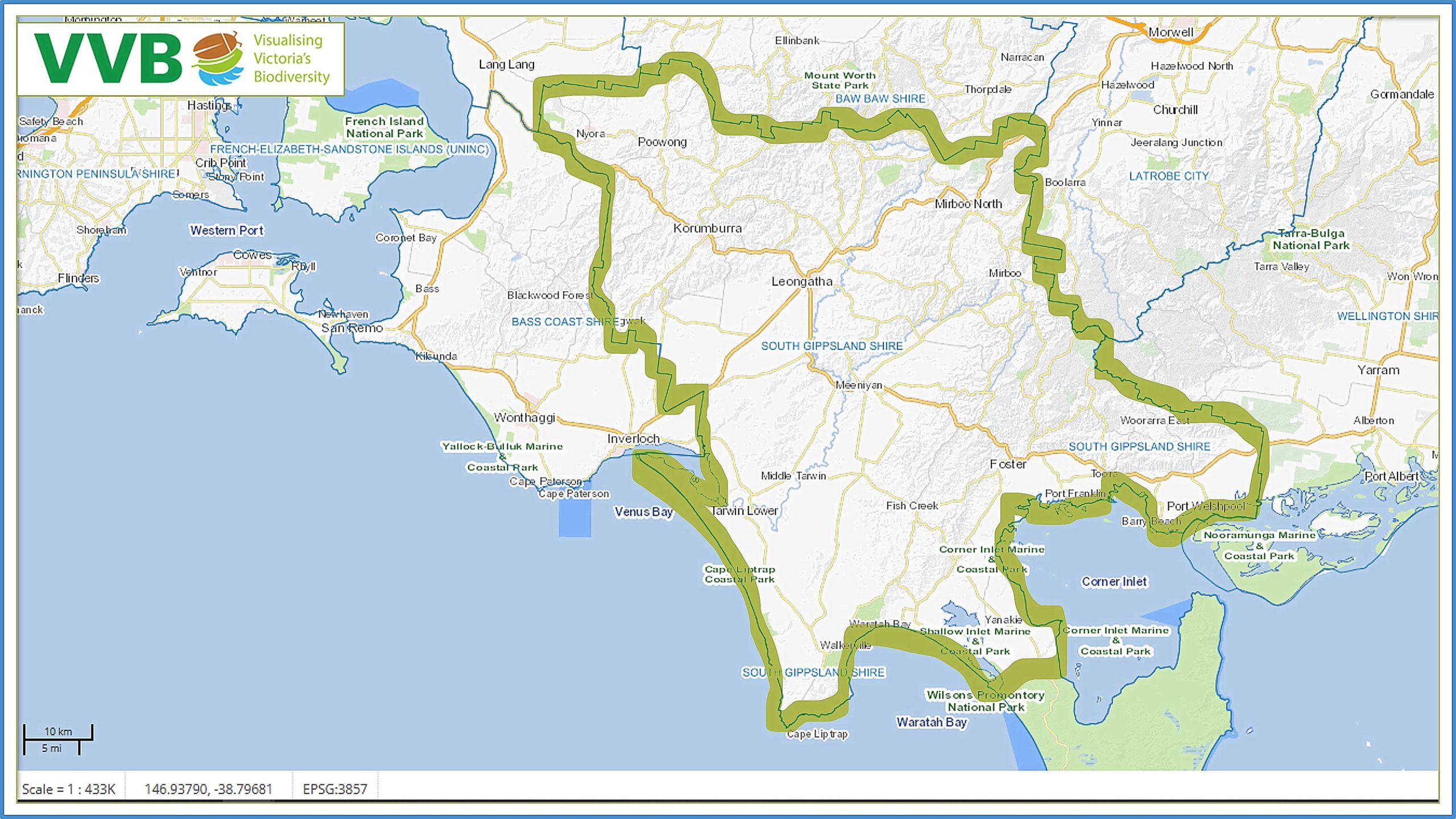 The 
collection Project
on iNaturalist shows the current range of biodiversity in South Gippsland. It is always being updated as people add their observations. You can see the latest number of species by clicking on the link, below. 
You can also contribute to our understanding of what biodiversity can be found in our region by making your own observations. Find out how to do this here.
Our approach
The South Gippsland Landcare Network (SGLN) has a strong 26-year history acting to restore native vegetation and habitat on private and public land which has resulted in broad benefits for biodiversity. The Strzelecki Koala Habitat Preservation Plan is one example of SGLN's strategic, collaborative action that currently informs Landcare groups, landholders as well as government agencies in expanding Strzelecki koala habitat corridors across Gippsland.
The living world is relevant to everyone in South Gippsland. We've drawn on the expertise of our Scientific Advisory Committee to guide our understanding of mapping, data, species and habitat in South Gippsland. And, we've used the data and reports of government and agencies to build on existing efforts to understand and protect our biodiversity. But, our knowledge about biodiversity and efforts to protect it is fragmented. So, it's important we seek community involvement and advice.
Taking in people's knowledge about local biodiversity, understanding people's concerns about biodiversity and their ideas for how biodiversity might be protected can shape what direction the protection plan takes and what its aims might be
We're taking this approach to understand what people think about biodiversity in South Gippsland, what kinds of actions should be adopted for protection of the living world in South Gippsland, and what priorities there might be in developing a shared approach to action. 
We need your help
       What actions do you think should be taken to better protect our living world? What are the priorities?
We hope that you will offer your thoughts and ideas on how South Gippsland's plants, animals and habitat can be protected. Your responses will help us develop South Gippsland's Draft Biodiversity Protection Plan. This will be published in June 2022 and available for comment. 
We're interested in understanding your concerns about biodiversity in South Gippsland. We'd like to know what protective actions should be taken, and what you think the priorities are.
You can drop us a line in the Comment form, below, or contact us via email.

You could attend one of our workshops or meetings. Just RSVP below.

You could take our survey, below, about South Gippsland's biodiversity. 

Subscribe, below, to stay informed
Provide a comment
Provide your thoughts, questions or ideas via our online Contact form
Register for a workshop
Register your details so we can contact you about joining us at one of our workshops. Just RSVP and we'll get back to you with the details.
Take the survey
Complete our survey on what should be done about biodiversity protection in South Gippsland